Late Summer Flowers
August 31, 2016
A trip to look at the long borders at Dartington Hall in Devon two weeks ago renewed my determination to get more late-flowering plants in the garden here.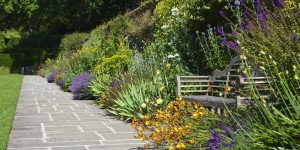 This Achillea 'Moonshine' was looking great although it rarely thrives in my hands but I might try again.
The exotic Crocosmia 'Solfatare' grows to a manageable height and looked pretty in the front of the border supporting mid-height plants growing behind. The bronze leaves contrast well with the pineapple yellow flowers.
Another great flower bobbing around the Dartington Hall border was Euphorbia schillingii in bloom from mid-summer to mid-autumn. It hails from Nepal so is hardy and can be sown from seed available from Chiltern Seeds. I plan to sow it in the pop-up greenhouse in Autumn.
In a local garden the plume poppy Macleaya is towering over the beds and looking astonishing. It's a handsome plant with grey-green leaves that catch the late afternoon sun and has plumes of tiny, petal-less, soft coral flowers. It's a herbaceous plant often recommended for the back of borders but here it's planted in the front of beds next to winding paths. The paths meander through dense planting with the Macleaya towering above head height and positioned in this way it looked amazing.
In the same garden Sedum 'Autumn Joy' about to bloom looked lovely pushing through the Stipa arundinacia.
There's some good wall interest in my garden with the leaves of Vitis vinifera 'Purpurea' just beginning to change.  This was it two weeks ago with a Clematis jackmanii flowering through it in places and a few bunches of black ornamental grapes nestle in the leaves.
And here it is this week with the leaves beginning to turn scarlet before they drop in Autumn.
And six clumps of Japanese Anemone 'Honorine Joubert', looking fresh and interesting, are filling a large shady border.
I was reluctant to cut the anemone flowers so have resorted to nasturtiums which are still flowering away on the allotment.